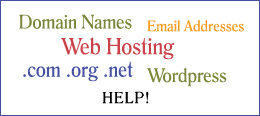 If you're new to domain names and web hosting, we bet you're pretty confused. First of all, there are so many companies out there, and each with so many options! And how can you tell what you need and what you don't?
Don't panic. Here's a little guide about buying domain names and web hosting.
Domain Name
Why You Need it: Every website needs a domain name. When you purchase your domain name, you are buying the right to use that URL as your address on the web (www.example.com). As long as you keep your account current, nobody else can take that name away from you.
Who to Buy from: You should select a reputable company that has good phone-based customer service. Believe us when we say there will be times when you will need to contact them. Don't accept… Continue reading →