Guest post by Ilana Rosenblum Guttman
One of the latest buzzwords in website design is sites that are "responsive." But what does that mean? Well, a responsive site is one that responds to the size of the browser that you are using.
Why does this matter to you?
You want your website visitors to have the best experience possible, and if they want to do something like share a blog post and the Share button is tiny, they will be frustrated and may not do it! With mobile users grabbing an ever-growing share of visitors to most websites, their needs cannot be ignored.
While many websites these days are developed with a mobile version (often a pared-down design optimized for viewing on narrow, small screens), responsive design takes the adjustment to a whole new level. It moves the elements on… Continue reading →

If you've ever asked this question, you aren't alone. Many of our clients wonder about this as well.
The simple answer is that the search engines like Google will find you on their own. They "spider" the web every day looking for new sites or edits to sites and will most certainly happen upon your pages.
The more complex answer is that there are ways to help the search engines more easily index your site. This will help your site appear higher in search results for words relating to your industry or area of interest.
This is where SEO comes in. SEO stands for Search Engine Optimization and refers to the effort of a website owner to enhance the chances that their site will prominently appear in search results.
There are many methods in SEO. The common thread, however, is… Continue reading →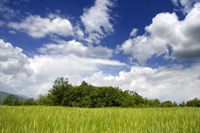 This morning we are designing for a real estate-related project and reminded of the famous line that it's all about "location, location, location." Well, it turns out that in web design, it's all about "photos, photos, photos."
What do we mean?
We mean that you can't use a cellphone pic from your friend's birthday party as your bio photo.
We mean that, no, your product will NOT look good photographed in your kitchen with the garbage pail in the background.
We mean that, sorry, we can't use copyrighted images stolen from a google image search.
We mean that if the photo is grainy, dark, low resolution, or in any way blurry – please, please, please don't use it.
What photos should we use?
Here are some best practices for a clean-looking website:
DO use a professional photographer for your bio photo and product photos.
DO purchase copyright-cleared… Continue reading →
One of the advantages of online publishing is that nothing is ever finished. You can create a website and add to it forever. You can post news as it happens, articles written by staff, pictures and videos of events etc. But it is important to organize your content so that it doesn't get lost on your website.
Here are some tips to consider when organizing your website:
When visitors reach your homepage, they expect to be told what your website/organization/business does. If you are an organization that holds fun events for sick children, your visitor needs to know that before being shown pictures from the latest day at Great Adventure.
There are certain catchphrases which tell your visitor what to expect on a specific tab. An About Us tab tells your visitor that he will find a detailed description of… Continue reading
You know that little icon at the top of your browser? The one that tells you what website you're on? In web design speak, we call it a "favicon" or "fave-icon." A favicon is a 16×16 pixel image that gets saved as a .ico file and uploaded to the root folder of your site. When users browse to your site, they see the little symbol at the top of their browser window or tab.
What's so genius about favicons?
In a world where users are opening many sites simultaneously, the favicon allows your site's tab to stand out as yours. If you don't upload a favicon, your browser (IE, Firefox, Safari, etc) will put their own logo in there! That's a missed opportunity to brand your site. Forgetting a favicon is like forgetting your logo!
A well-designed favicon will give… Continue reading →
Who would believe that in a field so young, fashions would change every year? But it turns out that innovations in technology are driving change and, as a result, trends in web design are in the fast lane.
Every year or so, the biggest websites reevaluate their designs and make changes. Companies like google and twitter have made major changes in the last few months. Both companies went with a look that's very clean and mostly white-on-white (white with shades of grey). They expanded the padding around buttons, imput fields, and navlinks so everything is clear and easy to find.
While the concept of "white space" may seem intuitive (and the Apple website has been doing it for quite some time already), many companies haven't gone there yet. Now they will. This is the trend for 2012.