Web 2.0 is all about producing content, whether on blogs, social media channels or other communities. But what do you do when you have nothing to contribute to the conversation?
There's no such thing! Sometimes the ideas flow and sometimes you need some help, but you can always find something to say:
Content curation – If you read lots of articles, blogs posts, news stories and social media posts, you can be the one to tell others what's going on online. Create social media round-ups or link to important and interesting stories with a short comment or analysis from you. Choose a news story and tell your readers why it is important. Let your readers know where you get your information from and why you have chosen these sources.
Google for ideas – If your usual sources aren't inspiring you,… Continue reading

→
From Guest Blogger, Hadassah Levy at www.contentandcommunities.com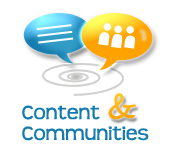 I sincerely hope that you have a life and are not connected to social media 24/7. That being the case, you may want to occasionally schedule a tweet or status update.
I say occasionally because if your whole social media presence is automated, real people will not follow you. People are on social media to be social, not to get automated updates about your latest blog post. Only the really big news sites can get away with spitting out links and zero engagement.
But if you want people in different time zones to see your updates or just have to be away from the computer for a few hours (gasp) and don't want to lose momentum, a scheduling platform is the way to go. Try Sendible, which allows you to schedule updates… Continue reading →