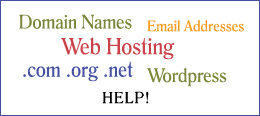 If you're new to domain names and web hosting, we bet you're pretty confused. First of all, there are so many companies out there, and each with so many options! And how can you tell what you need and what you don't?
Don't panic. Here's a little guide about buying domain names and web hosting.
Domain Name
Why You Need it: Every website needs a domain name. When you purchase your domain name, you are buying the right to use that URL as your address on the web (www.example.com). As long as you keep your account current, nobody else can take that name away from you.
Who to Buy from: You should select a reputable company that has good phone-based customer service. Believe us when we say there will be times when you will need to contact them. Don't accept… Continue reading →
You've set up your own newsletter and you are sending out your best content to those who have opted-in. But how do you extend your reach beyond your already existing audience? How do you find people interested in your niche who don't know you are out there? One great way to do this is by joining email lists.
Both Yahoo and Google have large collections of email lists. Go to the Yahoo Groups and Google Groups websites and search for your topic. Try a broad search. If your site contains articles about collectible cars, search for lists which are about cars in general. Note that some lists are public and indexed on Google, while others have the content closed to everyone except members. Pay attention to the number of members in each group. You might be willing to invest time… Continue reading →