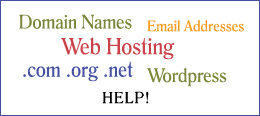 If you're new to domain names and web hosting, we bet you're pretty confused. First of all, there are so many companies out there, and each with so many options! And how can you tell what you need and what you don't?
Don't panic. Here's a little guide about buying domain names and web hosting.
Domain Name
Why You Need it: Every website needs a domain name. When you purchase your domain name, you are buying the right to use that URL as your address on the web (www.example.com). As long as you keep your account current, nobody else can take that name away from you.
Who to Buy from: You should select a reputable company that has good phone-based customer service. Believe us when we say there will be times when you will need to contact them. Don't accept… Continue reading →

If you've ever asked this question, you aren't alone. Many of our clients wonder about this as well.
The simple answer is that the search engines like Google will find you on their own. They "spider" the web every day looking for new sites or edits to sites and will most certainly happen upon your pages.
The more complex answer is that there are ways to help the search engines more easily index your site. This will help your site appear higher in search results for words relating to your industry or area of interest.
This is where SEO comes in. SEO stands for Search Engine Optimization and refers to the effort of a website owner to enhance the chances that their site will prominently appear in search results.
There are many methods in SEO. The common thread, however, is… Continue reading →
Who would believe that in a field so young, fashions would change every year? But it turns out that innovations in technology are driving change and, as a result, trends in web design are in the fast lane.
Every year or so, the biggest websites reevaluate their designs and make changes. Companies like google and twitter have made major changes in the last few months. Both companies went with a look that's very clean and mostly white-on-white (white with shades of grey). They expanded the padding around buttons, imput fields, and navlinks so everything is clear and easy to find.
While the concept of "white space" may seem intuitive (and the Apple website has been doing it for quite some time already), many companies haven't gone there yet. Now they will. This is the trend for 2012.
Conferences are always a lot of fun. Between the networking, the food and the professional advancement, you should go home feeling like your time was well-spent. And I did feel that way at the end of Sunday's SMX Israel. I wish I could have been in two places at once during some of the sessions, since there were so many interesting topics. Some of the presenters were stand-up comics as well as SEO professionals (shout-out to Miriam Schwab and Michael King), so there was plenty to laugh about while learning. Another great presentation was Gil Reich's talk on Google trends, focusing not on Google today but on where it is going (and thanks for the ride!).
Here are some of the things I learned or thought were especially important at SMX Israel:
Reputation management
You've set up your own newsletter and you are sending out your best content to those who have opted-in. But how do you extend your reach beyond your already existing audience? How do you find people interested in your niche who don't know you are out there? One great way to do this is by joining email lists.
Both Yahoo and Google have large collections of email lists. Go to the Yahoo Groups and Google Groups websites and search for your topic. Try a broad search. If your site contains articles about collectible cars, search for lists which are about cars in general. Note that some lists are public and indexed on Google, while others have the content closed to everyone except members. Pay attention to the number of members in each group. You might be willing to invest time… Continue reading →
That was the title of my presentation at Future of Jewish Non-Profit Summit (FOJNP). The concept was to quickly (and I do mean quickly) overview some of the tools and tricks available online which can be used by a non-profit to spread its message. Of course, these tips can also be used for any type of content website and even (gasp) for a business.
Here are my slides from the presentation:
I understand that a video of the presentation (and the rest of the summit presentations) will be available online shortly.
The presentations I enjoyed most at the conference were the talk on Google Plus by Farra Trompeter of Big Duck and the JDeal presentation (by Grant Silverstein) about how non-profits can raise money and build their… Continue reading →