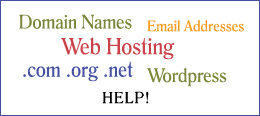 If you're new to domain names and web hosting, we bet you're pretty confused. First of all, there are so many companies out there, and each with so many options! And how can you tell what you need and what you don't?
Don't panic. Here's a little guide about buying domain names and web hosting.
Domain Name
Why You Need it: Every website needs a domain name. When you purchase your domain name, you are buying the right to use that URL as your address on the web (www.example.com). As long as you keep your account current, nobody else can take that name away from you.
Who to Buy from: You should select a reputable company that has good phone-based customer service. Believe us when we say there will be times when you will need to contact them. Don't accept… Continue reading →

This morning, one of our clients' sites was down. We did some basic checks, everything appeared to be fine. While we continued to investigate the problem, in the back of our minds, we wondered whether the website could have been hacked.
If your website has ever been hacked, I'm sure you'll agree that it's the worst feeling in the world. Your heart sinks as you begin to imagine how hard it will be to clean up the mess and get your site back to where it was. You start asking rapid-fire questions about why anyone would do this to you, are there backups, could you have prevented the attack, is your computer also infected, how can you clean it up, are there costs involved….?  It's a terrible feeling.
It might be comforting to know that even the most secure sites,… Continue reading →