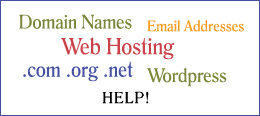 If you're new to domain names and web hosting, we bet you're pretty confused. First of all, there are so many companies out there, and each with so many options! And how can you tell what you need and what you don't?
Don't panic. Here's a little guide about buying domain names and web hosting.
Domain Name
Why You Need it: Every website needs a domain name. When you purchase your domain name, you are buying the right to use that URL as your address on the web (www.example.com). As long as you keep your account current, nobody else can take that name away from you.
Who to Buy from: You should select a reputable company that has good phone-based customer service. Believe us when we say there will be times when you will need to contact them. Don't accept… Continue reading →
Who would believe that in a field so young, fashions would change every year? But it turns out that innovations in technology are driving change and, as a result, trends in web design are in the fast lane.
Every year or so, the biggest websites reevaluate their designs and make changes. Companies like google and twitter have made major changes in the last few months. Both companies went with a look that's very clean and mostly white-on-white (white with shades of grey). They expanded the padding around buttons, imput fields, and navlinks so everything is clear and easy to find.
While the concept of "white space" may seem intuitive (and the Apple website has been doing it for quite some time already), many companies haven't gone there yet. Now they will. This is the trend for 2012.