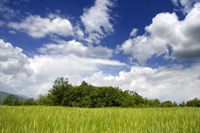 This morning we are designing for a real estate-related project and reminded of the famous line that it's all about "location, location, location." Well, it turns out that in web design, it's all about "photos, photos, photos."
What do we mean?
We mean that you can't use a cellphone pic from your friend's birthday party as your bio photo.
We mean that, no, your product will NOT look good photographed in your kitchen with the garbage pail in the background.
We mean that, sorry, we can't use copyrighted images stolen from a google image search.
We mean that if the photo is grainy, dark, low resolution, or in any way blurry – please, please, please don't use it.
What photos should we use?
Here are some best practices for a clean-looking website:
DO use a professional photographer for your bio photo and product photos.
DO purchase copyright-cleared… Continue reading →
You know that little icon at the top of your browser? The one that tells you what website you're on? In web design speak, we call it a "favicon" or "fave-icon." A favicon is a 16×16 pixel image that gets saved as a .ico file and uploaded to the root folder of your site. When users browse to your site, they see the little symbol at the top of their browser window or tab.
What's so genius about favicons?
In a world where users are opening many sites simultaneously, the favicon allows your site's tab to stand out as yours. If you don't upload a favicon, your browser (IE, Firefox, Safari, etc) will put their own logo in there! That's a missed opportunity to brand your site. Forgetting a favicon is like forgetting your logo!
A well-designed favicon will give… Continue reading →
Who would believe that in a field so young, fashions would change every year? But it turns out that innovations in technology are driving change and, as a result, trends in web design are in the fast lane.
Every year or so, the biggest websites reevaluate their designs and make changes. Companies like google and twitter have made major changes in the last few months. Both companies went with a look that's very clean and mostly white-on-white (white with shades of grey). They expanded the padding around buttons, imput fields, and navlinks so everything is clear and easy to find.
While the concept of "white space" may seem intuitive (and the Apple website has been doing it for quite some time already), many companies haven't gone there yet. Now they will. This is the trend for 2012.