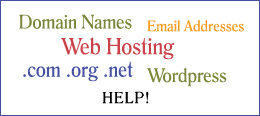 If you're new to domain names and web hosting, we bet you're pretty confused. First of all, there are so many companies out there, and each with so many options! And how can you tell what you need and what you don't?
Don't panic. Here's a little guide about buying domain names and web hosting.
Domain Name
Why You Need it: Every website needs a domain name. When you purchase your domain name, you are buying the right to use that URL as your address on the web (www.example.com). As long as you keep your account current, nobody else can take that name away from you.
Who to Buy from: You should select a reputable company that has good phone-based customer service. Believe us when we say there will be times when you will need to contact them. Don't accept… Continue reading →

If you've ever asked this question, you aren't alone. Many of our clients wonder about this as well.
The simple answer is that the search engines like Google will find you on their own. They "spider" the web every day looking for new sites or edits to sites and will most certainly happen upon your pages.
The more complex answer is that there are ways to help the search engines more easily index your site. This will help your site appear higher in search results for words relating to your industry or area of interest.
This is where SEO comes in. SEO stands for Search Engine Optimization and refers to the effort of a website owner to enhance the chances that their site will prominently appear in search results.
There are many methods in SEO. The common thread, however, is… Continue reading →

You already know that your website needs to have impeccable grammar and spelling. But what if you've proofed your text and it's fine?
Do you still need a writer?
You probably think not. But there are instances when even a "well-written" piece is not exactly right. Maybe you can't quite put your finger on it, but sometimes it's well worth it to hire a writer. Here are a few situations that are pretty common.
Website owners struggle with how to present their own work.
Hey, it's hard to describe what you do! You do so much, and it's all in your head, but even for the best of us, it may be tough to put down. Let a writer help.
The description is there, but key points are missing.
As you write your content, you'll need to look at your work from the perspective of… Continue reading →
You know that little icon at the top of your browser? The one that tells you what website you're on? In web design speak, we call it a "favicon" or "fave-icon." A favicon is a 16×16 pixel image that gets saved as a .ico file and uploaded to the root folder of your site. When users browse to your site, they see the little symbol at the top of their browser window or tab.
What's so genius about favicons?
In a world where users are opening many sites simultaneously, the favicon allows your site's tab to stand out as yours. If you don't upload a favicon, your browser (IE, Firefox, Safari, etc) will put their own logo in there! That's a missed opportunity to brand your site. Forgetting a favicon is like forgetting your logo!
A well-designed favicon will give… Continue reading →

This morning, one of our clients' sites was down. We did some basic checks, everything appeared to be fine. While we continued to investigate the problem, in the back of our minds, we wondered whether the website could have been hacked.
If your website has ever been hacked, I'm sure you'll agree that it's the worst feeling in the world. Your heart sinks as you begin to imagine how hard it will be to clean up the mess and get your site back to where it was. You start asking rapid-fire questions about why anyone would do this to you, are there backups, could you have prevented the attack, is your computer also infected, how can you clean it up, are there costs involved….?  It's a terrible feeling.
It might be comforting to know that even the most secure sites,… Continue reading →
Who would believe that in a field so young, fashions would change every year? But it turns out that innovations in technology are driving change and, as a result, trends in web design are in the fast lane.
Every year or so, the biggest websites reevaluate their designs and make changes. Companies like google and twitter have made major changes in the last few months. Both companies went with a look that's very clean and mostly white-on-white (white with shades of grey). They expanded the padding around buttons, imput fields, and navlinks so everything is clear and easy to find.
While the concept of "white space" may seem intuitive (and the Apple website has been doing it for quite some time already), many companies haven't gone there yet. Now they will. This is the trend for 2012.